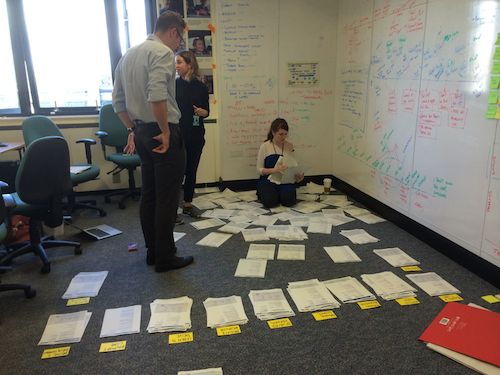 When you're deep in the day to day detail of projects, it's quite easy to lose sight of the big picture. If you're making lots of small, incremental changes, you can quickly forget what things were like when you started.
I'm currently taking a couple of weeks away from my DVLA projects, partly because it's long overdue, but partly because I've done just that.
I've been feeling pretty demotivated and frustrated at the lack of progress in some parts. But, of course, none of that's really true. There's been plenty of progress, I've just lost sight of it.
In the last 18 months…
We've built a new service to let drivers view a digital version of their driving licence. They can see when their licence expires, what vehicles they can drive and any penalty points and disqualifications. We built a prototype, then a beta and it's recently passed it's Digital by Default assessment so it'll be going "live" soon.
We've been working with the insurance industry to build a service to help them give drivers more accurate premiums. And we're currently running a private beta of the government's new Identity Assurance service with selected users.
We've built an alpha of a service to let people share their driving licence information with people that need it – such as hire car companies and employers. This will let DVLA remove the need for a paper counterpart to the driving licence – something that costs the public £8m a year asking for replacements. We've started work on a beta.
We've built an alpha of a service to let people tell us when they've sold their car to a dealer – the first piece in the puzzle of buying and selling a car online. We're now working on the beta.
We've built an alpha of a service to let people transfer their personalised registration from one car to another online. The team's now working on the beta.
We've built an alpha of a service to let companies that own fleets of cars see everything about their fleet. Once built, they won't have to store a paper V5C logbook for each vehicle. We're now working on a beta.
We've also redesigned the DVLA's vehicle enquiry service to make the information clearer and provide additional details such as MOT status.
We've rebuilt the DVLA's online Vehicle Tax and SORN services to make them simpler and faster. If you were one of the 720,000(ish) people who taxed their cars in the last week of August, you probably used the new service. We're going for our live Digital by Default assessment soon.
Elsewhere in DVLA, teams have been working hard to make it possible for drivers in Northern Ireland to tax their cars online for the first time; they're abolishing the paper tax disc after 93 years, and soon you'll be able to pay for your vehicle tax by Direct Debit. They've also handed control of their twitter account to their contact centre so people get answers to questions quickly. Huge changes.
To do all of this, we've had to drill holes deep into DVLA's legacy systems to gain access to and/or extract the data we've needed.
We've built out new cloud-based infrastructures using tools like Puppet and Zabbix. We've used new technologies (for DVLA) like Mongodb, DropWizard and Spray. We've even published some of our code.
We've worked with a bunch of different SMEs to help us build, run and maintain the new services as well as working closely with the incumbent suppliers.
If you walk around DVLA's offices in Morriston and Swansea Vale, there are Scrum/Kanban boards everywhere. Stand-ups happening every morning in many different teams – and not just those building software.
They hosted their first hackathon in July and civil servants are using their personal time to organise community meet-ups.
This is a hell of a lot of progress in just 18 months. And it's just the beginning.  When I go back to Swansea in a few weeks, I hope to go back re-motivated and ready to continue what we've started.
Sometimes you need to look backwards to realise just how far things have come.