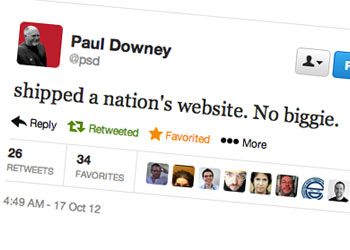 A year ago today two of the government's biggest websites, Directgov and Business Link, were switched off and GOV.UK became the official site for information and services. The last 12 months have flown by. It's interesting to see how much the site has changed over the year as it continues to develop.
It's now the home to 75 government departments and agencies who are publishing announcements, policies, publications, consultations, statistics and blogs on over 45 different topics. It's publishing information and statistics on government transactions including how many people are applying for a Lasting Power of Attorney each week, the things that stop people applying for car tax online, and the digital take up of the replacing your driving licence transaction.
As well as publishing, GOV.UK took over 6,000 applications for various local authority licences in June and has nearly 2,000 applications a week for various Foreign and Commonweath Office transactions. We're publishing information about how these are working too.
There have also been some less obvious changes. For example, local transactions such as Pay your Council Tax now include data from councils in Wales for the first time. Search has also had some big improvements, and the big search box on the homepage has returned!
A significant amount of other tweaks and improvements have happened over the last 12 months – these are just a few of the ones I can remember. It can be difficult to keep track when the team is averaging several software releases a day.
Away from GOV.UK, there have also been big things happening.
In December I stepped back from the day to day operation of GOV.UK and started to concentrate on re-thinking department transactions. I'm now spending a large portion of my time at the Driver and Vehicle Licensing Agency in Swansea helping them to build 3 new services.
I'm just one of a group of people from GDS now working in departments around the country. We've got people at the Environment Agency in Bristol, Insolvency Service in Birmingham and Department for Work and Pensions in Preston. We're building up agile teams across 14 agencies in 8 departments working on rebuilding 25 services to meet user needs.
Many of these transactions have development teams in place, some are already in public beta or live.
There are also other services being built in an agile way by departments with minimal GDS input such as the new MOT and Operator Licencing services at the Vehicle and Operator Services Authority in Bristol.
It's amazing to see the difference in just 12 months. When faced with transforming something as large as Government IT, it can be easy to forget to look back and see what has been achieved so far.
What will things look like 12 months from now?