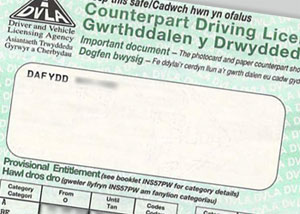 At the beginning of the week I took part in a workshop to look at abolishing the Counterpart Driving Licence (the piece of paper that comes with the plastic card). The counterpart contains additional information such as what you can drive (entitlements) and penalty points / disqualifications (endorsements).
It's seen to be a fairly important piece of paper. If you drive a van for work, you can use it to prove to your employer that you can drive that type of vehicle. Similarly, if you hire a car you can use it to prove to the rental company that you can drive. There are lots of reasons why someone might need to see it. Unfortunately, lots of people misplace the counterpart or throw it away not realising they might need it and then have to get a replacement.
As part of the Red Tape Challenge the government wants to abolish this piece of paper so people don't need to store it or pay for a replacement. Before we can do that though, we need some other way for drivers and others to see the information on it.
Drivers will be able to view their record online as part of the 'View my record' service we're working on. This week's workshop was an attempt to start gathering user needs from the police, courts, rental companies, finance companies and others. As we work through them and future workshops we'll turn some of these needs into stories on our backlog.
The rest of the week was spent in the usual way. I've been assisting the contract let team with their work and got to spend some time with the DVLA's new Director of Technology talking about IT governance and plans.
I spent some time with the IEP team splitting out some high-level epics around infrastructure, performance data and identity assurance into more detailed stories for the backlog. I also assisted with putting together some stuff for next week's Sprint Alpha event where we're going to show off what we've managed to do over the last 100 days to other departments, ministers and the press. More on that next week.
The week finished off with a video conference with people from the EU Commission who are working on rationalising the EU's web estate to share some of the knowledge and experience around we built GOV.UK.