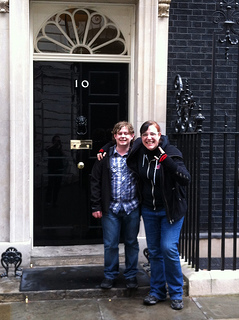 Just over a year ago, I blogged that I was taking a break from CF Labs and joining a project to create a new website for government.
Since then lots of things have happened, and many things have changed.  Here is a quick summary:
The Government Digital Service (GDS) was created to bring together many bits of government that were working on similar things, including the project to create the new website
We released a public beta of our proposed new website for citizens (to replace Directgov). We followed this with a beta of a platform to replace all central government websites and an alpha of our design principles
I got involved in, wrote and talked about the use of cookies on websites and the new law that has caused a lot of fuss
I got to go to Number 10
I left Consumer Focus and joined GDS full time as a developer and tech lead
I spent a huge amount of time travelling from South Wales to London and staying in hotels
I eventually stopped this madness and relocated from Cardiff to a flat in East London
We released the first batch of things for businesses on the public beta
We announced the date on which GOV.UK will replace both Directgov and BusinessLink – the two biggest government websites.
Over the last year, this blog has been very much unloved and has gathered an unhealthy layer of dust.  It's not for want of trying – there are several half finished posts that I just haven't gotten around to finishing.  I'm hoping I can resurrect some of these, but I suspect many are now too out of date.
In the run up to the launch of GOV.UK, I'm hoping to write a bit more about what I'm doing.  If the last year is anything to go by, the next 12 months is going to be a lot of fun.