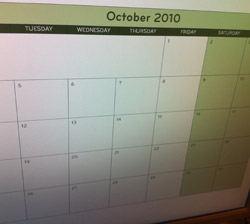 This is the second part in a recap of everything that happened in the last half of 2010.  Part 1 covered July, August & September.  This part looks at October and November.
October 2010
In October we completed the second phase of the new Consumer Focus website.  Earlier in the year we made the move from an external proprietary content management system to a WordPress system managed in house by CF Labs.  The second phase of work involved a complete restructure of the content and a refreshed website template.
As with the new CF Labs in September, we used WordPress 3.0 and built new templates for each of the Consumer Focus Nations
(GB, Wales, Scotland & Northern Ireland).  New areas were created for advice, policy work and publications.
We launched the site just in time to hear rumours that Consumer Focus was to be abolished in the Government's "bonfire of the quangos".  It turned out that the rumours were true.  The intention is to transfer some of our functions to Citizens Advice and Citizens Advice Scotland.  Even now, 4 months later, we still don't know exactly when or how this transfer will happen.
November 2010
November was a quiet month – mostly spent finalising work on three projects that were due to launch before the year came to a close.
At the end of the month we launched the second phase of the Consumer Focus Energy Price Comparison (EPC) Service.  The EPC acts as a mini-price comparison system and gives you a rough idea of the price to expect when shopping around for an energy supplier.  Consumer Focus inherited this system from our predecessor Energywatch.  Earlier in 2010 we'd shifted the system to a new data supplier and rebuilt it so we could manage it in house to save money.
The second phase of development involved producing a brand new front end to make the system easier to use.  We gave it the CF Labs treatment and integrated it with the Consumer Focus website design.  We cleaned up the code, added a bunch of features and created bookmarkable URLs for every search.
Coming up…
Community post offices
Rating energy suppliers