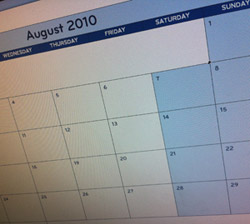 Whenever there has been an extended gap in my blogging I try and find something to get it going again.  It usually involves some kind of recap of the missing months to try and fill in the gap.   This time is different only in the sheer amount of things that have happened.  Over the last six months I've moved house, worked on (and launched) five major projects for CF Labs, begun work on three more and my employer has been abolished.
As this recap covers such a long period of time, I've split it across several posts. First up is July, August & September.
July 2010
Throughout July I spent time working on the recently launched StayPrivate.org website.  As users sent in feedback we evaluated and tweaked the interface to reduce problems.
August 2010
As with July, plenty of time was spent evaluating and implementing changes to StayPrivate.org following user feedback.  Late in the month we blogged about some of the issues users were having and the reasons behind them.  We also launched a revamped FAQ to answer as many of the common questions as possible.
A large number of other projects also took up time during August –all of which launched before the end of 2010.
September 2010
In early September we launched a new website for CF Labs to showcase our work and host our blog.  The existing website included a heavy focus on ideas for potential future projects but we decided to change the focus to projects that had already been completed.
As the CF Labs site was built using WordPress, we developed a new template to take advantage of all the new features added into WordPress 3.0.  We used Custom Post Types to provide a page for each of our projects which includes an introduction to the work and associated images. We also used tags to show the latest three blog posts related to each project.
Also in September I stumbled across a fantastic open-source tool (Tweet Nest) for creating a searchable archive of a user's tweets.  In the past, I'd used various methods to create such an archive but none of them worked as well as this.  You can see a working example using my tweets at http://tweetnest.daibach.co.uk.
I'm considering using this tool to create an archive of tweets from the various Consumer Focus twitter accounts.
Also in September
13th – Information Commissioner forced Brent Borough Council to respond to requests made through the WhatDoTheyKnow website.  Brent had been refusing to do so citing copyright as the reason.
22nd – The government's Director for Digital Engagement – Andrew Stott – announced he was to retire in December.  Katie Davis was to take over on a temporary basis
30th – Government released the Open Government Licence for Public Sector Information. This licence allows people to openly reuse government information.  We now use this licence on all CF Labs projects where we have data to be released.
Coming up…
Launch of new Consumer Focus website
Consumer Focus is abolished
Comprehensive Spending Review
Comparing energy prices