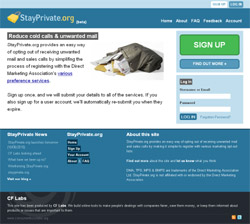 On Thursday, CF Labs launched their latest project – StayPrivate.org – into public beta. This site is designed to make it easier to sign up for the various marketing opt-out services that exist in the UK.
There are lots of different opt-out services that exist, all of which have separate sign-up forms and require you to fill out the same details (such as name, address, email address), over and over again. We felt there was a better solution, and so we built a site that combines the forms into one and does the hard work of submissions for you. The initial version of StayPrivate.org incorporates the Telephone, Mail & Baby Mail Preference service offered by the Direct Marketing Association.
I've been working on this project on and off for the past seven months (although most of the work has happened in the last two months or so), so I'm really pleased to see it launch. Since we flipped the switch early on Thursday morning, we've had over 4500 registrations and submitted over 6500 applications to the DMA opt-out services. This is many more than we were originally anticipating for the first public release.
The day of launch was amazing. We had to respond to issues quickly – sometimes within a few minutes. We pushed out nearly 30 fixes through out the day and switched off parts of the site to reduce server load. Since then we've been reducing the queues of submissions to ensure that everyone who registered has been processed.
The next task is to go through the site and look at where we can make improvements. I-ll be spending the next few days reworking parts of the site and implementing some of the suggestions we-ve received.
If you want to know more about StayPrivate or want to keep track of my work on this project, take a look at the CF Labs blog.
Update: fixing a spelling mistake pointed out by @keeran.