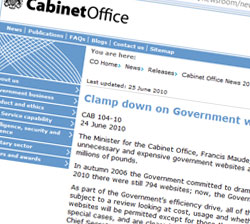 On Friday, the Government announced that it is intending to close up to 75% of the 820 public sector websites it has identified. The announcement coincided with a report from the Central Office of Information (COI) outlining statistics for central government websites. These figures show that 47 websites have cost taxpayers over £127 million in the last financial year.
If you dig a little deeper into the figures you can see that central government has spent £14m on Strategy & Planning, £15.8m on Design & Build, £23.8m on Hosting & Infrastructure and £9.7m on Testing (these are categories that COI requires under their TG128 standard). Despite their efforts (gathering this kind of data is by no means easy) I have concerns about the quality. For example:
The Ministry of Defence spent £418,000 on Design & Build: however, that includes figures for their internal intranet whereas the others do not appear to include intranet costs
A comment against the Forestry Commission figures numbers states "This is as close as I can make it. Won't be too far out."
The Office of Fair Trading hosting costs cover both their website and internal intranet
Numerous departments (Ministry of Justice, Audit Commission, Department for Environment, Food & Rural Affairs, GCHQ, Crown Prosecution Service and the Statistics Authority) show no costs for website hosting
Quite clearly there is a discrepancy in the ways each department has calculated their figures. There could be quite legitimate reasons for this, for example, hosting could be part of a much bigger IT contract, making it difficult to split out website costs. However it does raise questions as to the accuracy of the dataset as a whole.
Interestingly, the Crown Prosecution Service does not appear to have provided any costs (all fields are marked as zero); they have however answered an FOI request recently, revealing they paid nearly £122k last year.
That said the spending figure is horrifying. The government is spending way too much on websites. I can't quite figure out how spending £35 million on BusinessLink is justified, or £10.4 million on Directgov for that matter, particularly when these sites were supposed to reduce the cost of public sector websites.
I would also be interested to see a breakdown of where all of this money is spent. I wonder how much of it goes to the big public sector outsourcing companies rather than SME web development agencies.
I agree that the costs need to be brought down, and some of that needs to be through closing websites and rationalising hosting infrastructures. However I think that there needs to be a proper look at why the costs for producing websites are so high – value for money is just not being achieved in a lot of these cases.
Simon Dickson from Puffbox has written more about these figures on his blog, as has Harry Metcalfe from the Dextrous Web.