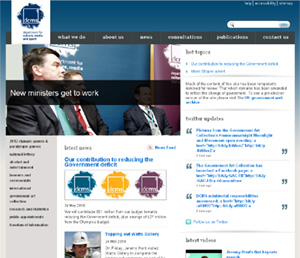 We are nearly two weeks into the new Conservative-Liberal Democrat and there seems to be a lot of work going on behind the scenes to prepare for the start of the new legislative programme tomorrow (Tuesday).
Of course, with a new government brings a new direction. Steph Gray, a former civil servant working in the technology arena has written a fantastic overview of what might happen to public sector IT over the next parliament. While these potential plans seem to focus on large scale IT projects, we've already started to see the effects of the new government as it has attempted to make its mark.
Within hours of David Cameron stepping into Number 10, public sector websites underwent a huge change. Most policy generated for the previous Government was cleared from department websites and consigned to The National Archives, Twitter and social media accounts were updated, and in some cases entire websites were replaced.
DEFRA (Department for Environment, Food and Rural Affairs) launched a new, temporary website to differentiate between new and old policy. Department for Business, Innovation and Skills (BIS) on the other hand have left most of their policy in place, albeit with a warning stating that it relates to the previous government.
The Department for Culture, Media and Sport (DCMS) website saw one of the biggest changes with a fantastic new design. The Department for Children, Schools and Families (DCSF) also got a new website, but this time under the new name "Department for Education".
Both of these departments now have brand new Twitter accounts – @dcms and @educationgovuk. Unfortunately, they both already had accounts prior to 12th May – raising questions as to why they needed new ones. The old DCMS account (@dcmsgovuk) still lives on, dormant and not updated. No one appears to have bothered to inform their existing followers of the presence of the new feed. The DCSF account (@dcsfgovuk) has suffered an even more drastic fate. An account which at one point had some 4000 followers was deleted along with all of its content.
Other departments handled their changes a bit better – Downing Street rebranded all of their social media accounts to "Number10Gov" for consistency. Their twitter account was renamed, leaving all of their followers and previous content intact. This, in my opinion, is a much better way of handling the change.


We have made changes to the Number 10 website and our profiles on twitter, YouTube and flickr. http://bit.ly/8YK3tkless than a minute ago via web
UK Prime Minister
Number10gov
In general these immediate changes have been a mixed bag. Some have worked well – such as the changes to Number 10 and the new DCMS website. Others appear to have not been thought through – such as the new account for DCSF. Unfortunately however, there has been no consistency between departments or government as a whole.
This of course has been the first major change in government since the rapid growth of social media platforms, so quite clearly there was going to be a bit of trial and error. Hopefully next time the public sector will be a bit wiser when it comes to social media and not leave their followers hanging or disconnected.