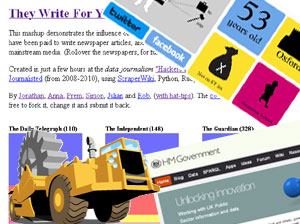 Most people will be aware of the concept of a hack day – a number of designers and/or developers getting together for a day to build "cool stuff". These sorts of days happen on a regular basis and quite a few interesting projects have come out of them.
On Friday, Charlie and I attended a hack day with a difference. The ScraperWiki Hack and Hackers Hack Day was designed to bring designers, developers (hackers) and journalists (hacks) together to see what they could do. While other hack days may have involved journalists in a media capacity, this event involved journalists from the beginning.
After an introduction to how the day would work, we all split out into groups and started to work on our projects. I worked with Charlie, two other journalists (Ian and Annamarie) and another developer (Edmund) to investigate new election candidates in the safest seats in the country. We mashed together data on constituencies, candidates and then did some good old fashioned journalism to fill in the blanks
Other teams worked away on other projects, only interrupted by the food and drink provided. Finally, at the end of the day we sat down to present our work – eight projects in total. It was amazing to see what different directions the different teams had gone in.
A few of the projects used data to begin investigating a story. One group looked at the transport data released by data.gov.uk and mapped it onto constituencies; another group looked at awards paid out by Enterprise Ireland. Richard Pope looked at the register of interests for London Assembly members and plotted how often and where they were taken out to lunch by third parties. The largest group produced "They Write For You", a mashup that demonstrates how many MPs write articles in newspapers.
Other projects were more focused towards building tools such as a system that allowed you to classify the output of data.gov.uk data (e.g. Excel, CSV, PDF, linked data etc.). A last minute entry also wrote a scraper for UK bank holiday dates (a much needed tool for developers!). A final fun project scraped all of the horoscopes for the last year and analysed the most used words for each star sign -producing some fantastic visualisations.
The day aimed to explore how hacks and hackers could / would work together. I think the quality of the projects created show that it is a good match. Journalists have an eye for a story that us developers might not have. While we may enjoy throwing tools together and mashing up data, we don't necessarily know what makes a good story. Similarly, journalists don't necessarily know or understand what developers do and how we do it.
Lessons were learned on both sides and show the growing importance of data based journalism. As an experiment, I think it was a success and certainly should be repeated again.
If it is – I will be first on the list to attend!
Thanks must go to Channel 4/4IP for providing the venue for the day, Richard Pope and everyone from ScraperWiki for organising the event and helping us get working.