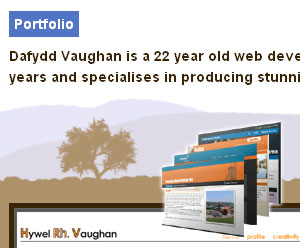 For web developers and designers the question of who owns your portfolio is an important one. It is a question that is not as clear cut as you might think. It seems that depending on your circumstances, you may not have any legal right to display the work that you produce.
The general opinion is split into two areas – freelancers and contractors/employees. If you are a freelancer, the answer seems pretty simple. Unless you have signed an agreement with a client that hands over all rights to them, you are the copyright owner, and so you can use it in your portfolio. If you are a contractor or employee, things are much more complicated. This isn't helped by the UK's outdated copyright laws, recently declared to be the worst in the world by Consumer Focus – the new public organisation responsible for campaigning for consumer rights.
If you are a contractor, you should check the terms and conditions of your contract. If there is a clause handing all copyright to your employer, then there is nothing you can do. If on the other hand, there is no condition, you might be covered by fair use (this is a part of copyright law that allows certain actions that would normally be regarded as infringement).
For employees, the picture is even bleaker. Anything you create during work hours belongs to your employer. This even covers things like photographs taken during work time using your own camera. In these situations, fair use might still come into play.
In the past, when the printed portfolio was king, this issue wasn't that important. After all, who would know that you are using work you produced while in employment in your portfolio. Now that it is essential for a developer / designer to have a digital portfolio open to everyone, this is issue has come up time and time again.
I would argue that your portfolio is covered by copyright fair use as you are not selling on the work, and not causing the copyright owner financial harm. Additionally, you may be providing your employer with free publicity. If you do go down this route, it is important to credit your employer. Also remember that claiming full credit for something you didn't do or only had a part hand in comes under a different issue – plagiarism (you can see my thoughts on this here). You could also argue that as a website is in the public domain, there is nothing wrong with a screenshot of it – sites display screenshots of other sites all the time – it is accepted practice.
Recently I've been talking to lots of designers about this topic. It seems that lots of web companies don't mind their employees showing work on their portfolio. Some even seem to go as far as to encourage their employees to do it because of the extra publicity it provides. There are, however, a minority that see things differently.
Of course, I'm not a lawyer, so you shouldn't take anything I've said as legal advice. However there are plenty of places on the internet that do offer this advice and these are well worth a read (1, 2, 3, 4).
If you are an employee and leave to take on another job or become a freelancer, you need to seriously consider the legality of your portfolio. Also remember that what may have been OK while you worked for the company, may not be once you leave.
What do you think? Should a designer be allowed to display a copy of the work he/she has done in their digital portfolio? Have you had problems with your online portfolio. Let me know – I'd be interested to gather a better picture about this issue.