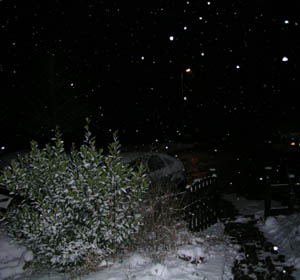 Unless you've been in a cave (or outside of the UK) for the last few days, you'll know that we've been experiencing the fun of a 'severe snow event'. The exact definition of a severe snow event remains unanswered, and I'll leave the debate over whether what we've been experiencing is severe to another time. What is important, however, is that a large number of schools have been closed because of the snow. The BBC reported earlier that over 500 schools were closed today in Wales alone.
This brings up an interesting questions – how do schools inform parents and students that they are going to be closed? Traditionally, schools have informed local radio stations which have spread the news. This however comes with a number of problems – most importantly, not everyone can receive the local radio station. For example, one member of my family goes to Hereford Sixth Form College, which informs BBC Hereford & Worcester, and Wyvern FM of closures. However, here in Abergavenny, we receive neither of these stations.
The college could phone all parents – but with over 1700 students, that would be nearly impossible. Parents ringing the college would freeze up the phone lines. Maybe the schools could use the internet to pass this message? Hereford Sixth Form College does just that – an emergency message has been displayed on the homepage since Monday morning detailing the current status of the college.
What if there was one central resource for information on all schools? One website address for parents to remember – a website which was updated by each school to show their status. Tom Watson, MP for West Bromwich suggested this yesterday morning. He purchased schoolclosures.org.uk and challenged DirectGov (the UK's government gateway) to produce the site ready for the next day (today).
DirectGov must have pulled out all the stops, because just 28 hours later, schoolclosures.org.uk was released as a beta to show how the system might work. This is fantastic work from a government department – not something you will usually hear from me. Being able to take an idea to a working system in just under 28 hours is no mean feat – but is something the government needs to get used to. Well done to everyone who worked on this!
Of course, no one system is going to solve the problem. But with all systems, schools, and government departments working as one, there is a real chance to make an event like this easier on parents and pupils.