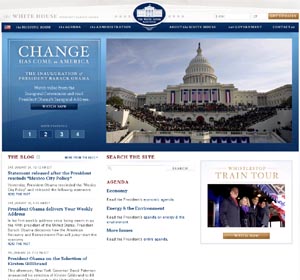 This week it feels like a new phase in social media and the internet has begun. The beginning of the week saw America inaugurate a technology-savvy president, who, along with his team, appears to understand the importance of technology and the internet. Throughout last year, Barack Obama and his team made fantastic use of social media – from Twitter to YouTube, from Facebook to blogs – to gather support and donations for his campaign.
Following his election in November, his team continued their use of aspects of social media to keep people informed during their transition to government. Visitors to their Change.gov site were encouraged to submit their ideas and join in the discussion.
As he was being sworn in at the official ceremony, the new White House website was launched, featuring the new, clean look we have come to expect, simple navigation and the all important blog. This website is perhaps the best website from a government I've ever seen. I can only hope that this trend continues not only in the US, but here at home in the UK.
Throughout this week, social media has been making the headlines – and one site in particular has been getting a lot of attention. It is of course, Twitter – the addictive micro-blogging service which allows you to post 140 character updates about what you are doing, and things that interest you. The site has finally hit the mainstream, being discussed on radio, in newspapers and on TV. Various figures show that UK visitors to Twitter have skyrocketed in the last few months.
Not only are we now starting to see a proliferation of celebrities on the service, but also MPs, and members of local government. A fantastic site called Tweetminster has been set up to allow people to locate members of parliament and prospective parliamentary candidates (PPCs) who are using the service.
I think it's brilliant to see government start to use social media. I feel that it is important for government and the people that are supposed to represent us connect with the country, listen to us, and respond to our ideas. I believe that the use of services like Facebook and Twitter will help reinvigorate politics and get people involved in how their country is run.
I hope that this trend continues, and if it does, 2009 could turn out to be the year government finally 'gets' the internet. In the meantime, I'm going to do all I can to help it along.